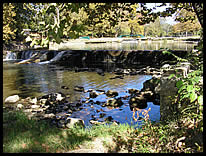 Welcome to The Fall Creek Stream Guide!

We have put together an Easy to Use and complete Guide to help you enjoy this wonderful and scenic stream. We start describing the river in Pendleton and end in the heart of Indianapolis.
Fall Creek is very scenic and is teaming with wildlife.
How to Use this Website
We have identified the information that you will probably need to plan your next trip to Fall Creek. It is important to know about:
Access Points - We have printable maps to the access points as well as detailed pictures of the parking, path to the river, and river access for

every access point to the river.

River Segments - We have created printable maps of the river segments that you will be traveling on. We show you mileages, bridges and powerlines that you will be going under.
Current Stream Flow - Click here to find out how Fall Creek is running

right now!

We have included some interpretations of what the flow level actually means in terms of the feel of the river.
Discussion board - People can use this area to coordinate help with shuttles and discuss river issues.
Local Weather and additional information - There are many businesses and organizations that can help you enjoy Fall Creek. These include places to rent a canoe or kayak!